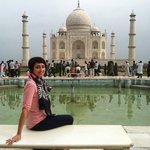 Natalie Steinebrunner Art & Design
Natalie Steinebrunner is a surface & textile designer with an impeccable sense of color and composition. Her work is comprised of hand-painted elements that blend complex and simple patterns, creating original eye-catching designs. Natalie has been working in the art and design industry for nine years and holds a degree in Fine Arts from the Maryland Institute College of Art. She began her career working for a local interior designer as a design assistant, a position which soon transformed into an in-house artist and decorative painter for clients' custom projects. This opened the door to many other freelance opportunities, as she began collaborating with other interior designers, artists, homeowners and commercial businesses to create beautiful spaces. In a recent interview on Decorology, interior designer Darlene Molnar calls Natalie's work, "modern and refreshingly approachable." Natalie is available for work as a creative consultant and freelance designer. Her art and designs are also available for licensing or purchase. Contact Natalie@NatalieSteinebrunner.com for available designs. Natalie Steinebrunner Art & Design joined Society6 on April 11, 2014
More
Natalie Steinebrunner is a surface & textile designer with an impeccable sense of color and composition. Her work is comprised of hand-painted elements that blend complex and simple patterns, creating original eye-catching designs.
Natalie has been working in the art and design industry for nine years and holds a degree in Fine Arts from the Maryland Institute College of Art. She began her career working for a local interior designer as a design assistant, a position which soon transformed into an in-house artist and decorative painter for clients' custom projects. This opened the door to many other freelance opportunities, as she began collaborating with other interior designers, artists, homeowners and commercial businesses to create beautiful spaces. In a recent interview on Decorology, interior designer Darlene Molnar calls Natalie's work, "modern and refreshingly approachable."
Natalie is available for work as a creative consultant and freelance designer. Her art and designs are also available for licensing or purchase. Contact Natalie@NatalieSteinebrunner.com for available designs.
Natalie Steinebrunner Art & Design joined Society6 on April 11, 2014.
Natalie Steinebrunner Art & Design's Store
23 results
Filter