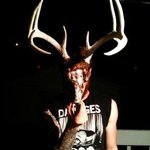 Nate Burns
I am an artist/illustrator from central Ohio. Most of my work is commission based for bands to be used for t-shirt designs, album art, tour posters, patches, etc. but the art featured on my Society 6 page consists mostly of personal pieces i.e. art created for no specific purpose other than that of something I felt like making for myself. I hope you enjoy them. You can follow more of my work at: www.revoltingworship.tumblr.com www.instagram.com/revoltingworship Thank you for taking the time to look at my work. I'm honored. Nate Burns joined Society6 on May 31, 2014
More
I am an artist/illustrator from central Ohio.
Most of my work is commission based for bands to be used for t-shirt designs, album art, tour posters, patches, etc. but the art featured on my Society 6 page consists mostly of personal pieces i.e. art created for no specific purpose other than that of something I felt like making for myself. I hope you enjoy them.
You can follow more of my work at:
www.revoltingworship.tumblr.com
www.instagram.com/revoltingworship
Thank you for taking the time to look at my work. I'm honored.
Nate Burns joined Society6 on May 31, 2014.
Nate Burns's Store
20 results
Filter