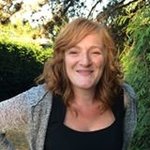 Nathalie Dignard
Nathalie Dignard is an intuitive artist, teacher, author and visual storyteller. She connects art to life through creative expression in her own art and through her Heart Whispers and Playful Intentions workshops (100 Braid St Studios and Galleries).
Nathalie uses bright colours, positive messages and elements of nature to create art that lets you know you matter and leaves you feeling bolder, braver and beautifully alive. She is also a contributing author to 365 Moments of Grace (DandiLove Unlimited, 2016) where her words remind us of the amazing power of the world unseen that transforms and inspires.
Visit Nathalie at www.nathaliedignard.com where she shares her art, wisdom and inspiration.
Follow Nathalie on social media here: https://www.facebook.com/nathaliedignardart https://twitter.com/NathalieDignard https://www.instagram.com/nathaliedignard
Read more