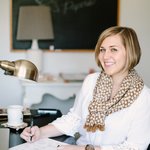 Natty Michelle Paperie Apparel
Ever since Natalie was old enough to pick up a crayon and hold it in her hand, she's been coloring, drawing and painting. Much of her artwork is inspired by travel; illustrating maps and city landmarks that make a place special. In 2010, she opened Natty Michelle Paperie -- a play on her nickname, and of course, paper! What started as an online stationery shop quickly grew and now includes a wide variety of gift items that feature her original artwork as well. During her time as a student at the University of Georgia, Natalie quickly fell in love with college life and the Classic City. After a relatively short stint in Atlanta post-graduation, she and her husband, James, missed Athens so much that they decided to move back! Natalie works out of her home studio, spending her days creating and staying at home with her toddler son, Archie. In 2015 Natalie partnered with Night Owl Paper Goods in Birmingham to create a line of birch ornaments featuring her artwork, and she regularly collaborates with her friends at Smokey Road Press in Athens to create one-of-a-kind letterpress map coasters and prints as well. In 2016-2017 her city skyline collection will be expanding, adding more stamps, mugs and party cups to her line -- stay tuned for more soon! When Natalie isn't creating or spending time with her family, she can be found antiquing, cheering on the Dawgs and scrolling through social media. Instagram is her happy place -- stop by @nattymichelle and say hello! Natty Michelle Paperie Apparel joined Society6 on March 23, 2013
More
Ever since Natalie was old enough to pick up a crayon and hold it in her hand, she's been coloring, drawing and painting. Much of her artwork is inspired by travel; illustrating maps and city landmarks that make a place special. In 2010, she opened Natty Michelle Paperie -- a play on her nickname, and of course, paper! What started as an online stationery shop quickly grew and now includes a wide variety of gift items that feature her original artwork as well.
During her time as a student at the University of Georgia, Natalie quickly fell in love with college life and the Classic City. After a relatively short stint in Atlanta post-graduation, she and her husband, James, missed Athens so much that they decided to move back! Natalie works out of her home studio, spending her days creating and staying at home with her toddler son, Archie.
In 2015 Natalie partnered with Night Owl Paper Goods in Birmingham to create a line of birch ornaments featuring her artwork, and she regularly collaborates with her friends at Smokey Road Press in Athens to create one-of-a-kind letterpress map coasters and prints as well. In 2016-2017 her city skyline collection will be expanding, adding more stamps, mugs and party cups to her line -- stay tuned for more soon!
When Natalie isn't creating or spending time with her family, she can be found antiquing, cheering on the Dawgs and scrolling through social media. Instagram is her happy place -- stop by @nattymichelle and say hello!
Natty Michelle Paperie Apparel joined Society6 on March 23, 2013.