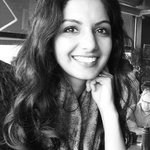 Nav Andrade
I go by Nav. What I do is create. Well if i'm being really honest it's illustrate, paint, design, sew and bake. One of the things I love most in this entire world is books and art. I've traveled around Europe in the hunt for antique illustrated books and vintage art prints. What I want to do with them is hoard them in my library, never letting go of a single page. Now, surrounded by all this beauty, how can one NOT be inspired. So putting aside my reservations and shaking off my "creative block" I've recently resumed illustrating. I'm creating unique, one off digital designs and some series' using mixed media collage. All work is inspired by (and even includes) my every growing collection of lithography. The attention to detail and the fine craftsmanship used in those times it amazing and it never fails to impress me. If you want to follow my creative process then please visit my website:(http://sheprintsvintage.wordpress.com/) and hit the follow button (it's the hovering circle with a + inside). I'll be sharing my inspiration, ideas and personal projects on my portfolio. Fellow hoarders and art collectors be warned, I'm selling some darn good stuff. So please take some time to look through my stores for some beautiful pieces of art and prints. I hope you like what you see and can find the perfect space for one of my treasured prints on your walls…. Nav Andrade joined Society6 on March 3, 2014
More
I go by Nav. What I do is create. Well if i'm being really honest it's illustrate, paint, design, sew and bake.
One of the things I love most in this entire world is books and art. I've traveled around Europe in the hunt for antique illustrated books and vintage art prints. What I want to do with them is hoard them in my library, never letting go of a single page.
Now, surrounded by all this beauty, how can one NOT be inspired. So putting aside my reservations and shaking off my "creative block" I've recently resumed illustrating. I'm creating unique, one off digital designs and some series' using mixed media collage. All work is inspired by (and even includes) my every growing collection of lithography. The attention to detail and the fine craftsmanship used in those times it amazing and it never fails to impress me.
If you want to follow my creative process then please visit my website:(http://sheprintsvintage.wordpress.com/) and hit the follow button (it's the hovering circle with a + inside). I'll be sharing my inspiration, ideas and personal projects on my portfolio.
Fellow hoarders and art collectors be warned, I'm selling some darn good stuff. So please take some time to look through my stores for some beautiful pieces of art and prints.
I hope you like what you see and can find the perfect space for one of my treasured prints on your walls….
Nav Andrade joined Society6 on March 3, 2014.