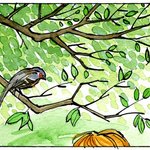 Aaron Navrady
Aaron Navrady graduated with a Bachelor of Design from the Alberta College of Art & Design in 2002. When he's not drawing, Aaron likes to listen to the radio, walk around late at night, read books, watch films and ride his bicycle. More of Aaron's work can be found at http://aaronnavrady.com Follow: FB - http://on.fb.me/1aIo1xL or TW - @aaron_navrady Aaron Navrady joined Society6 on October 22, 2013
More
Aaron Navrady graduated with a Bachelor of Design from the Alberta College of Art & Design in 2002. When he's not drawing, Aaron likes to listen to the radio, walk around late at night, read books, watch films and ride his bicycle.
More of Aaron's work can be found at http://aaronnavrady.com Follow: FB - http://on.fb.me/1aIo1xL or TW - @aaron_navrady
Aaron Navrady joined Society6 on October 22, 2013.
Prints by Aaron Navrady
7 result
Filter