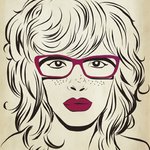 Annymal
Illustrator and Graphic Designer. Curious about Photography. Interested in every kind of art. I used to think about beauty as the light in the midst of the chaos, but now I´m not pretty sure. I like cats, winters and stay warm on my pijamas... but who cares. Annymal joined Society6 on July 25, 2011
More
Illustrator and Graphic Designer. Curious about Photography. Interested in every kind of art.
I used to think about beauty as the light in the midst of the chaos, but now I´m not pretty sure. I like cats, winters and stay warm on my pijamas... but who cares.
Annymal joined Society6 on July 25, 2011.