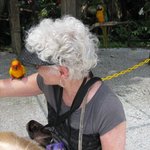 Nancy E Boswell
Art is an engagement of the senses. It is a conversation, a statement, a product which conveys images, ideas and feelings. It illicits a response which creates an interaction between the artist and the viewer. This engagement becomes the moment in the familiar phrase "Art is in the eye of the beholder".
My art evolves through an interpretive process where my subjects are developed, reduced or expanded in a particular time or place.
I offer the viewer some degree of sanctuary, of peace or tranquility. I want to comfort the viewer in our ever roiling world.
My intent as an artist is to explore, capture and share my senses of the natural world.
I invite you into a place open to all.
Read more
Nancy E Boswell's Store
Filter