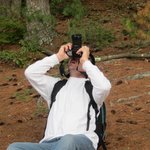 Neal Eslinger Photography
Neal Eslinger resides in New England, in the northeast corner of Connecticut, in a small town called Putnam. This area of the United States is often referred to as The Quiet Corner and/or The Last Green Valley.
Neal is a self taught photographer & digital artist who specializes in capturing unique images, large and small, found in nature. Neal owes much of his love for nature, to his parents, who helped instill in him a deep respect, wonder, love and admiration for the natural world. Hiking and camping at a very early age helped to set the stage for Neal's artistic expression. Neal's love of art, music and nature help to compliment eachother; inspiring Neal Eslinger's unique imagery.
Neal graduated from the University of Connecticut with a B.A. in Psychology. For many years Neal has been advocating for individuals with co-occuring mental health diagnoses and documented brain injury. In 2007 Neal purchased a digital camera and began using photography as an outlet for artistic expression. Neal continues to grow and to learn as an artist; always searching for that 'Perfect' image or moment.
Most of Neal's images are taken in the state of Connecticut. Popular towns include Pomfret, Woodstock, Thompson, Chaplin, Ashford, Eastford & Union. Neal Eslinger is a frequent visitor of Bigelow Hollow State Park, Yale-Myers Forest, James L. Goodwin State Forest, Bafflin Sanctuary (Audubon Society), Mashamoquet Brook State Park & the Airline State Park Trail (old rail trail) among many others.
To view Neal's complete gallery please visit http://neal-eslinger.artistwebsites.com/index.html
Thank you for visiting Neal's Gallery. Please come back again!
All Artwork on THIS website is property of artist (Neal Eslinger) and may not be reproduced, duplicated, or resold. Copyright is retained by Neal Eslinger following the sale of the item.
Read more
Neal Eslinger Photography's Store
Filter
a39f6c49-d510-4de6-9743-2ae1b0e222c7

Popular

db894c57-d679-43e1-a527-57f9bb981bc5

All