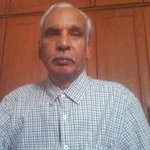 Nedunseralathan
Engineer by profession , turned to art after srving as engineer for 33 years. Now art is passion full time. I worked in various media and styles.. now i do more in digital media and in abstract style Mandala art I cherish to do. My art is spontaneous and fast, coming not from outside but from within. I live in Chennai, India. Nedunseralathan joined Society6 on June 24, 2015
More
Engineer by profession , turned to art after srving as engineer for 33 years.
Now art is passion full time.
I worked in various media and styles.. now i do more in digital media and in abstract style
Mandala art I cherish to do.
My art is spontaneous and fast, coming not from outside but from within.
I live in Chennai, India.
Nedunseralathan joined Society6 on June 24, 2015.
Nedunseralathan's Store
9 results
Filter