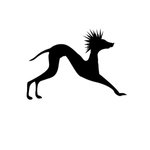 negocioscaninos
Hola detrás de Negocios Caninos se esconde una mujer soñadora que no ha parado de pintar desde los cuatro años. Ahora soy profesora de informática y me encanta el diseño. Decidí junto a mi perro Mortadelo comenzar a vender mis diseños Sobre literatura, fotografía, arte y fricadas. Las ideas son originales, intento dar a veces un pequeño toque transgresor sin dejar atrás la estética retro o vintage que tanto me gustan. Espero que os gusten un montón!!! Hola behind Negocios Caninos there hides a dreamy woman who has not stopped drawing since four years old. Now I am a teacher of computer science(graphic design) and I am love design. I decided close to my dog Mortadelo to begin to sell my designs about literature, photography, art and entertainment. The ideas are original, I try to give sometimes a small touch transgressor with a touch of retro and vintage style. I hope that you like and enjoy!!! negocioscaninos joined Society6 on March 6, 2014
More
Hola detrás de Negocios Caninos se esconde una mujer soñadora que no ha parado de pintar desde los cuatro años. Ahora soy profesora de informática y me encanta el diseño. Decidí junto a mi perro Mortadelo comenzar a vender mis diseños Sobre literatura, fotografía, arte y fricadas. Las ideas son originales, intento dar a veces un pequeño toque transgresor sin dejar atrás la estética retro o vintage que tanto me gustan. Espero que os gusten un montón!!!
Hola behind Negocios Caninos there hides a dreamy woman who has not stopped drawing since four years old. Now I am a teacher of computer science(graphic design) and I am love design. I decided close to my dog Mortadelo to begin to sell my designs about literature, photography, art and entertainment. The ideas are original, I try to give sometimes a small touch transgressor with a touch of retro and vintage style. I hope that you like and enjoy!!!
negocioscaninos joined Society6 on March 6, 2014.