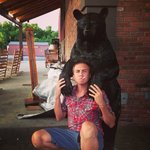 Neil McKinney
What do you want from me? In all honestly I'm working blue collar shit and at one time I was a white collar graphic designer. I no longer upload anything and am a total piece of shit... so if you like what I do, thank you very much. I might upload an audio file soon to see if i can get another $2.90 in 2020 on this account.
Read more
Neil McKinney's Store
Filter
You are currently on society6.com.