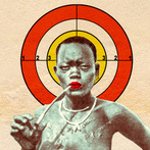 Tanja Jeremić
Tanja Jeremić is visual artist based in Belgrade, Serbia. She creates digital collages and motion graphics by combining old photos she finds with contemporary styles. Her work is mainly composed of few unrelated elements from old photographs in which she recognises her thought. She filters those photographs through her personal designs and aesthetics thus giving us her surreal universe. www.behance.net/nelipotme www.looseartist.tumblr.com www.nelipotme.tumblr.com www.looseartist.deviantart.com www.flickr.com/photos/104534768@N03 www.google.com/+TanjaJeremic Tanja Jeremić joined Society6 on October 15, 2012
More
Tanja Jeremić is visual artist based in Belgrade, Serbia. She creates digital collages and motion graphics by combining old photos she finds with contemporary styles. Her work is mainly composed of few unrelated elements from old photographs in which she recognises her thought. She filters those photographs through her personal designs and aesthetics thus giving us her surreal universe.
www.behance.net/nelipotme www.looseartist.tumblr.com www.nelipotme.tumblr.com www.looseartist.deviantart.com www.flickr.com/photos/104534768@N03 www.google.com/+TanjaJeremic
Tanja Jeremić joined Society6 on October 15, 2012.