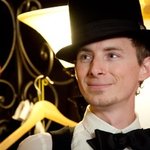 Nelloc
IMAGINE: You as the superhero. The Sexy Warrior Princess, the Bunny Super-Do-Gooder, the Burning Man Superhero, or the Zombie HOW IT WORKS: You send me a photo. I send you a short questionnaire so that you can describe in detail what you're thinking. For example, the girl on the right side of the the cover image asked for a lion head, dangly bits, and a sexy warrior look. She also adores cats. The girl on the left loved Totoro, furry boots, raver cloths and the color aqua. I use my intensely vivid imagination to create a fun, digital portrait of your cute self into the superhero of your dreams. These prints make cool, unique, and fun gifts for weddings, baby showers, birthdays, and anniversaries. If you've got an idea for a superhero, want to get a gift for someone, go to www.drawingwithcollen.com and fill out the form and I will get back to you shortly. Nelloc joined Society6 on February 22, 2014
More
IMAGINE: You as the superhero. The Sexy Warrior Princess, the Bunny Super-Do-Gooder, the Burning Man Superhero, or the Zombie
HOW IT WORKS: You send me a photo. I send you a short questionnaire so that you can describe in detail what you're thinking. For example, the girl on the right side of the the cover image asked for a lion head, dangly bits, and a sexy warrior look. She also adores cats. The girl on the left loved Totoro, furry boots, raver cloths and the color aqua.
I use my intensely vivid imagination to create a fun, digital portrait of your cute self into the superhero of your dreams.
These prints make cool, unique, and fun gifts for weddings, baby showers, birthdays, and anniversaries.
If you've got an idea for a superhero, want to get a gift for someone, go to www.drawingwithcollen.com and fill out the form and I will get back to you shortly.
Nelloc joined Society6 on February 22, 2014.
Nelloc's Store
11 results
Filter