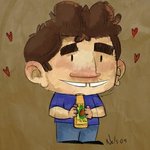 Nelsart
Nelson Diaz is an Animator and Illustrator from Brooklyn, NY. He has animated and drawn all sorts of stuff for Nickelodeon, Disney, Food Network, Dreamworks and a bunch of other places. When he's not doing that, he's usually sipping coffee and talking, thinking or drawing something silly. Visit: nelsart.com nelsart.tumblr.com Nelsart joined Society6 on February 24, 2014
More
Nelson Diaz is an Animator and Illustrator from Brooklyn, NY.
He has animated and drawn all sorts of stuff for Nickelodeon, Disney, Food Network, Dreamworks and a bunch of other places.
When he's not doing that, he's usually sipping coffee and talking, thinking or drawing something silly.
Visit: nelsart.com nelsart.tumblr.com
Nelsart joined Society6 on February 24, 2014.
Nelsart's Store
21 results
Filter