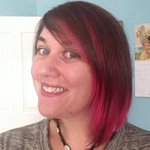 Nemmersis
My name is Emma Hawkins. Or Nemmer as I am less formally known... I am an Illustrator for West Yorkshire. ​ Taking influence from magical worlds, to urban legends and popular culture, I enjoy creating characters and worlds that have a little something different about them. You might not see it at first, but keep looking (trust me) Nemmersis joined Society6 on November 29, 2013
More
My name is Emma Hawkins.
Or Nemmer as I am less formally known...
I am an Illustrator for West Yorkshire. ​
Taking influence from magical worlds, to urban legends and popular culture, I enjoy creating characters and worlds that have a little something different about them. You might not see it at first, but keep looking (trust me)
Nemmersis joined Society6 on November 29, 2013.