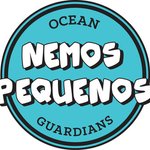 Nemos Pequenos-Little Nemos
Nemos Pequenos saves lives and creates ocean guardians in Mozambique by:  Educating communities through a child centred approach that engages them with the ocean  Building the capacity of local people to deliver to deliver marine conservation and swimming education, and community outreach  Nurturing local conservation action  Equipping local people with essential life skills that enable safe practice in and around the water The Mozambican coastline contains some of the richest waters in the Indian Ocean however, it is also one of the poorest countries in the world. Over 60% of Mozambique's 25.8 million people live in coastal areas and this places significant pressures on the marine environment and its resources. Coupled with this, the majority cannot swim. Each year there are thousands of drowning fatalities, as people risk their lives on a daily basis to provide for their families. Nemos Pequenos aims to change this by enabling local people to be more confident around the water and have a compassionate understanding of their marine environment. Equipped with relevant skills and knowledge, we empower costal communities to act towards its sustainable management and protection. For more information about our program, please go http://www.marinemegafauna.org/education/ or keep up to date with our progress on our facebook page https://www.facebook.com/nemospequenos Nemos Pequenos-Little Nemos joined Society6 on September 15, 2014
More
Nemos Pequenos saves lives and creates ocean guardians in Mozambique by:  Educating communities through a child centred approach that engages them with the ocean  Building the capacity of local people to deliver to deliver marine conservation and swimming education, and community outreach  Nurturing local conservation action  Equipping local people with essential life skills that enable safe practice in and around the water
The Mozambican coastline contains some of the richest waters in the Indian Ocean however, it is also one of the poorest countries in the world. Over 60% of Mozambique's 25.8 million people live in coastal areas and this places significant pressures on the marine environment and its resources. Coupled with this, the majority cannot swim. Each year there are thousands of drowning fatalities, as people risk their lives on a daily basis to provide for their families.
Nemos Pequenos aims to change this by enabling local people to be more confident around the water and have a compassionate understanding of their marine environment. Equipped with relevant skills and knowledge, we empower costal communities to act towards its sustainable management and protection.
For more information about our program, please go http://www.marinemegafauna.org/education/ or keep up to date with our progress on our facebook page https://www.facebook.com/nemospequenos
Nemos Pequenos-Little Nemos joined Society6 on September 15, 2014.
Nemos Pequenos-Little Nemos's Store
9 results
Filter