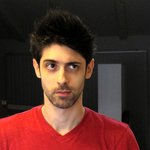 James Beech
Neon Serpent is the not-so-secret code-name for James Beech, Austin based game designer, artist, and musician. ::GAME DESIGNER:: He's worked on DC Universe Online, Crysis 3, and his abstract indie game ULTRAWORLD: http://visit-ultraworld.com ::ARTIST:: He does weird stuff. Just look at his Society6 page and you'll get the idea. For older stuff, check this: http://neon-serpent.com/fineart ::MUSICIAN:: He just released a new solo album called INSTAGIB, which is pure electronic mayhem. He also did the soundtrack to ULTRAWORLD. You can find both here: https://jamesbeech.bandcamp.com Email: contact@visit-ultraworld.com Twitter: @neonserpent IG: neonserpent James Beech joined Society6 on September 17, 2014
More
Neon Serpent is the not-so-secret code-name for James Beech, Austin based game designer, artist, and musician.
::GAME DESIGNER:: He's worked on DC Universe Online, Crysis 3, and his abstract indie game ULTRAWORLD: http://visit-ultraworld.com
::ARTIST:: He does weird stuff. Just look at his Society6 page and you'll get the idea. For older stuff, check this: http://neon-serpent.com/fineart
::MUSICIAN:: He just released a new solo album called INSTAGIB, which is pure electronic mayhem. He also did the soundtrack to ULTRAWORLD. You can find both here: https://jamesbeech.bandcamp.com
Email: contact@visit-ultraworld.com Twitter: @neonserpent IG: neonserpent
James Beech joined Society6 on September 17, 2014.