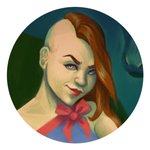 neophobica
I always loved to draw and did it whenever I could, even during school. I started drawing digitally in 2008 and really focused on it at the beginning of 2015. I am a freelance illustrator and graphic designer in Vienna. website - www.neophobica.com facebook - facebook.com/neophobica instagram - instagram.com/neophobica neophobica joined Society6 on January 15, 2015
More
I always loved to draw and did it whenever I could, even during school. I started drawing digitally in 2008 and really focused on it at the beginning of 2015. I am a freelance illustrator and graphic designer in Vienna.
website - www.neophobica.com facebook - facebook.com/neophobica instagram - instagram.com/neophobica
neophobica joined Society6 on January 15, 2015.