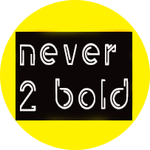 never2bold
Hey art fans and shoppers, welcome to my studio/shop!
I'm an artist and writer based in the beautiful forests of North Carolina; I'm also a world traveler, and my experiences with people and places from 5 continents absolutely influence my art. I love traditional art—acrylics, ink & pen, watercolors, multi-media, oils—as well as digital art, and I am always inspired to use bold, popping colors. I'm a self-taught artist, and I'm always experimenting and growing.
Creating art brings me peace; it is meditation. It's that simple!! I hope to share my positivity and calmness with each piece.
Please stop back often to see new pieces and my various collections!
I've been taught to be a "good girl" all of my life. No more! Now i'm NEVER 2 BOLD!
Follow me on Instagram at judy.isaksen
Read more
Framed Prints by never2bold
180 results
Filter