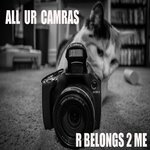 Nevermind the Camera
Anything and everything is photographic. I find art in everything I see. I'm always looking for new places, people, and things to photograph.
You can find more of my work at http://www.nevermindthecamera.com.
There's something for everyone. Don't be a stranger!
*Disclaimer: I hope I don't need to say this, but I will say it anyway: PLEASE DO NOT STEAL MY IMAGES, or legal action will be taken against you.
I have several backup copies of every photo I take, many with my own copyright information watermarked on them, so I can prove without a doubt that any image stolen from me is originally mine.
Please don't make me or anyone else on this site have to do this. Be inspired by others, but create your own work. Respect your fellow artists.
Read more
Nevermind the Camera's Store
Filter