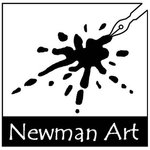 Newmanart7 -- JT and Nancy Newman, Art a
JT has his degree in Visual Communications from the Art Institute of Atlanta and his certification in Commercial Photography from the New England School of Photography in Boston. JT is a National and Internationally awarded artist and has been working as an Illustrator and Graphic Artist with various publications throughout the country and world. JT is now making his new work available for everyone to enjoy. "A wonderful gift has been given to me and would like to share and enjoy it with everyone." -- JT Newman Nancy Newman is an artist/photographer and received her certification in Commercial Photography from the Woodland School of Photography in West Virginia. Nancy has been producing some amazing photography over the years and is now capturing new images exclusively for personal consumers through the venues of Society Six and other similar websites. We thank you from the bottom of our hearts for supporting artist and the arts! Newmanart7 -- JT and Nancy Newman, Art a joined Society6 on December 6, 2013
More
JT has his degree in Visual Communications from the Art Institute of Atlanta and his certification in Commercial Photography from the New England School of Photography in Boston. JT is a National and Internationally awarded artist and has been working as an Illustrator and Graphic Artist with various publications throughout the country and world. JT is now making his new work available for everyone to enjoy. "A wonderful gift has been given to me and would like to share and enjoy it with everyone." -- JT Newman
Nancy Newman is an artist/photographer and received her certification in Commercial Photography from the Woodland School of Photography in West Virginia. Nancy has been producing some amazing photography over the years and is now capturing new images exclusively for personal consumers through the venues of Society Six and other similar websites.
We thank you from the bottom of our hearts for supporting artist and the arts!
Newmanart7 -- JT and Nancy Newman, Art a joined Society6 on December 6, 2013.
Newmanart7 -- JT and Nancy Newman, Art a's Store
474 results
Filter