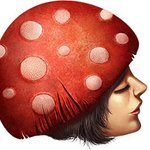 New Mindflow
New Mindflow is the studio that we started to give life to some of our artistic projects. Consequently you could say that our mission statement is to delight, inform and entertain. Currently we're working on film, photography, illustrations and we're developing interactive experiences as apps. www.newmindflow.com www.facebook.com/newmindflow http://twitter.com/newmindflow New Mindflow joined Society6 on November 18, 2013
More
New Mindflow is the studio that we started to give life to some of our artistic projects. Consequently you could say that our mission statement is to delight, inform and entertain. Currently we're working on film, photography, illustrations and we're developing interactive experiences as apps.
www.newmindflow.com www.facebook.com/newmindflow http://twitter.com/newmindflow
New Mindflow joined Society6 on November 18, 2013.