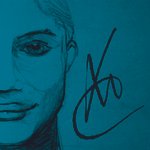 nicole carmagnini
I will share the basic – the name is Nicole Carmagnini, born and raised in Firenze, Italia. I love to pour out all my imagination/frustration on Illustrations. I don't have a favourite subject, even though lately it seems like I prefer to pass the time doing portraits … anyways I generally tend to vary and experiment to keep my poor mind entertained. website: www.nicolecarmagnini.com blog: www.senzanome-senzasenso.tumblr.com nicole carmagnini joined Society6 on October 20, 2013
More
I will share the basic – the name is Nicole Carmagnini, born and raised in Firenze, Italia. I love to pour out all my imagination/frustration on Illustrations. I don't have a favourite subject, even though lately it seems like I prefer to pass the time doing portraits … anyways I generally tend to vary and experiment to keep my poor mind entertained.
website: www.nicolecarmagnini.com blog: www.senzanome-senzasenso.tumblr.com
nicole carmagnini joined Society6 on October 20, 2013.