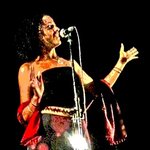 NiccoleaPoetry
My official bio: Phoenix, Arizona poet and artist Niccolea M. Nance has been putting her emotions on paper since she could first write full sentences. Niccolea began performing her spoken word poetry in 2002 and has methodically developed her talent over the years with a multitude of feature performances throughout the Phoenix metro area as well as Tucson, Flagstaff, San Diego, Salt Lake City and Albuquerque, with a world tour via sail boat in the works for 2014-2016. (https://www.facebook.com/TheEmunaEndeavor) Slam Master and 2010 Individual World Poetry Slam finalist Jesse Parent describes her spoken word performances as "Compelling and expertly honed. She can perfectly weave story into her crowd interactions, providing powerful sets that drop jaws and get audiences off their feet. Niccolea M Nance is an amazing and engaging artist." Niccolea's published work, which she explains is "Drawn from personal life experiences and the stories of those closest to her", can be found in Borderline, a cutting-edge persona poetry journal and Canyon Voices, an Arizona State University journal for emerging writers, as well as in her self-published book The Words I Hold. As of 2012 she has also had some of her work translated into Spanish for an anthology for the annual Horas de Junio writers' symposium for the University of Sonora in Hermosillo, MX. ~~~~ This Society6 profile will be for images created from excerpts of my poetry as well as some of my shorter works. Thank you for your interest! ~ Niccolea NiccoleaPoetry joined Society6 on January 11, 2014
More
My official bio: Phoenix, Arizona poet and artist Niccolea M. Nance has been putting her emotions on paper since she could first write full sentences. Niccolea began performing her spoken word poetry in 2002 and has methodically developed her talent over the years with a multitude of feature performances throughout the Phoenix metro area as well as Tucson, Flagstaff, San Diego, Salt Lake City and Albuquerque, with a world tour via sail boat in the works for 2014-2016. (https://www.facebook.com/TheEmunaEndeavor)
Slam Master and 2010 Individual World Poetry Slam finalist Jesse Parent describes her spoken word performances as "Compelling and expertly honed. She can perfectly weave story into her crowd interactions, providing powerful sets that drop jaws and get audiences off their feet. Niccolea M Nance is an amazing and engaging artist."
Niccolea's published work, which she explains is "Drawn from personal life experiences and the stories of those closest to her", can be found in Borderline, a cutting-edge persona poetry journal and Canyon Voices, an Arizona State University journal for emerging writers, as well as in her self-published book The Words I Hold. As of 2012 she has also had some of her work translated into Spanish for an anthology for the annual Horas de Junio writers' symposium for the University of Sonora in Hermosillo, MX.

This Society6 profile will be for images created from excerpts of my poetry as well as some of my shorter works. 

Thank you for your interest!
~ Niccolea

NiccoleaPoetry joined Society6 on January 11, 2014.