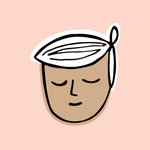 nice times
Hi! I'm Kay and I'm an illustrator and designer living and working in NYC. I whip up creative and spirited designs for clients, home decor, stationery and just about anything you can put an illustration on! I wield wit and humor to create work that is intentional and yet still playful and approachable.
I think there should never be a shortage of fun, especially in our everyday routines. I infuse this mantra into the work I create. My inspirations stem from travel, the going ons in the kitchen and running around NYC taking in all of it's fabulousness.
Nice Times Studio is where I celebrate fun, everyday stuff.
Read more
nice times's Store
25 results
Filter