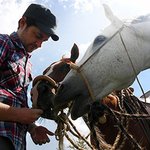 Nick Young
Nick Young is a Northwest based artist with a deep love for storytelling and the natural world. Artist's Statement: Nature inspires me to take things that seem ordinary and elevate them into character-driven visuals with back stories. Sometimes a single image creates enough energy to proliferate itself and further its own narrative. I just let it happen and in doing so, completely lose myself in their stories. - Nick Young Nick Young joined Society6 on October 30, 2013
More
Nick Young is a Northwest based artist with a deep love for storytelling and the natural world.
Artist's Statement: Nature inspires me to take things that seem ordinary and elevate them into character-driven visuals with back stories. Sometimes a single image creates enough energy to proliferate itself and further its own narrative. I just let it happen and in doing so, completely lose myself in their stories. - Nick Young
Nick Young joined Society6 on October 30, 2013.
Nick Young's Store
8 results
Filter