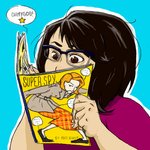 Nicole Cuvin
Nicole Cuvin was born in the middle of a raging typhoon on the tropical isle of the Philippines. Cuvin's parents had pinned their hopes on her becoming a doctor, but her love of drawing and the arts prevailed. This former repressed artist grew up around Disney movies, cartoons and anime, Sunday comic strips, and all of the fiction and mystery novels she could get her hands on. With such a wide variety of narratives flooding her childhood, Cuvin's work is deeply connected to the art of storytelling. She loves to integrate humor into her work and is interested in finding where the lines blur between normal life and fantasy. Her heroes include (but are not limited to) Degas, Van Eyck, Edward Gorey, and Nancy Drew. With a mix of traditional and digital media (such as ink and gouache coupled with digital color in Photoshop), Cuvin enjoys using clean line work, vibrant colors and bold blacks to create striking and fun illustrations. Today, she has a BFA in illustration from the Pacific Northwest College of Art in Portland, Oregon. Armed with a range of styles to suit the illustration needs of today's market, Cuvin works as a free lance illustrator. Nicole Cuvin joined Society6 on September 23, 2012
More
Nicole Cuvin was born in the middle of a raging typhoon on the tropical isle of the Philippines. Cuvin's parents had pinned their hopes on her becoming a doctor, but her love of drawing and the arts prevailed. This former repressed artist grew up around Disney movies, cartoons and anime, Sunday comic strips, and all of the fiction and mystery novels she could get her hands on. With such a wide variety of narratives flooding her childhood, Cuvin's work is deeply connected to the art of storytelling. She loves to integrate humor into her work and is interested in finding where the lines blur between normal life and fantasy. Her heroes include (but are not limited to) Degas, Van Eyck, Edward Gorey, and Nancy Drew.
 With a mix of traditional and digital media (such as ink and gouache coupled with digital color in Photoshop), Cuvin enjoys using clean line work, vibrant colors and bold blacks to create striking and fun illustrations. Today, she has a BFA in illustration from the Pacific Northwest College of Art in Portland, Oregon. Armed with a range of styles to suit the illustration needs of today's market, Cuvin works as a free lance illustrator. 

Nicole Cuvin joined Society6 on September 23, 2012.