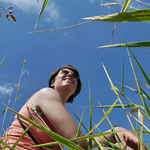 Nicole Markmann Nelson
*"A photograph taken today is a lifetime of yesterdays preserved for all the tomorrows"* I was born and raised in Germany. A few years ago I relocated to Utah with my husband! Always had a passion for photography. But it was later in life that I started to become more serious about photography. I am an award winning, self taught photographer and loves to take photographs of pretty much anything. Mostly I do macro photography, especially of flowers. "My type of photography is freestyle or shooting from the hip because anything that catches my eye is going to be photographed." I always had that dream, the dream to see wild horses and knew when I moved to Utah that I had to find them. And when I did, I fell in love with them instantly! "The feeling you get when you're out there in the desert, seeing them running, playing, fighting or just grazing, it's incredible! It gives you a feeling of freedom" I would be out there every day if I could, but an illness I am battling for a few years, called the TN disease, hinders me a lot of times to do the thing I love. The passion I found in taking pictures of the Wild Mustangs, is something I won't give up. Still much to learn about the Mustangs and since I can't much help to keep them free, I want to help document them in this way, taking pictures of them as often as possible! I want them to stay free and run as the free spirit, as they were born to do. A symbol of this country! Also I enjoy taking pictures of landscapes, sunsets, portraits and of course of my three dogs! So you will find a good mix of the things I love here. Thank you for your visit and your support, it's appreciated! If you have any question, please don't hesitate to contact me Take care, stay healthy & god bless! Other webpage's you will find me, is here: RedBubble: http://www.redbubble.com/people/simplyklick FineArtAmerica: http://nicole-markmann-nelson.fineartamerica.com* *Like me* *&* *Follow me* *"Facebook Page:":https://www.facebook.com/SimplyKlickPhotography* Nicole Markmann Nelson joined Society6 on April 2, 2014
More
"A photograph taken today is a lifetime of yesterdays preserved for all the tomorrows"
I was born and raised in Germany. A few years ago I relocated to Utah with my husband! Always had a passion for photography. But it was later in life that I started to become more serious about photography. I am an award winning, self taught photographer and loves to take photographs of pretty much anything. Mostly I do macro photography, especially of flowers. "My type of photography is freestyle or shooting from the hip because anything that catches my eye is going to be photographed."
I always had that dream, the dream to see wild horses and knew when I moved to Utah that I had to find them. And when I did, I fell in love with them instantly!
"The feeling you get when you're out there in the desert, seeing them running, playing, fighting or just grazing, it's incredible! It gives you a feeling of freedom"
I would be out there every day if I could, but an illness I am battling for a few years, called the TN disease, hinders me a lot of times to do the thing I love. The passion I found in taking pictures of the Wild Mustangs, is something I won't give up. Still much to learn about the Mustangs and since I can't much help to keep them free, I want to help document them in this way, taking pictures of them as often as possible! I want them to stay free and run as the free spirit, as they were born to do. A symbol of this country!
Also I enjoy taking pictures of landscapes, sunsets, portraits and of course of my three dogs! So you will find a good mix of the things I love here.
Thank you for your visit and your support, it's appreciated!
If you have any question, please don't hesitate to contact me
Take care, stay healthy & god bless!
Other webpage's you will find me, is here: RedBubble: http://www.redbubble.com/people/simplyklick FineArtAmerica: http://nicole-markmann-nelson.fineartamerica.com*
Like me & Follow me "Facebook Page:":https://www.facebook.com/SimplyKlickPhotography
Nicole Markmann Nelson joined Society6 on April 2, 2014.