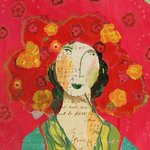 nightgarden
Hello! I'm Kimberly and I'm an artist and product designer living in Asheville, NC. Unbelievably I've been a full time artist for more than 20 years, and I have done just about everything; including licensing my work all over the world and be represented by a gallery in Japan. I am (mostly self trained) in ceramics, painting, illustration and wood. I have a popular Etsy site called Goldfish Marmalade where I sell my handpainted wood pieces, fabric decals, and prints. Thanks for checking out my work! www.kimberlyhodges.com www.etsy.com/shop/GoldfishMarmalade nightgarden joined Society6 on September 16, 2016
More
Hello! I'm Kimberly and I'm an artist and product designer living in Asheville, NC. Unbelievably I've been a full time artist for more than 20 years, and I have done just about everything; including licensing my work all over the world and be represented by a gallery in Japan. I am (mostly self trained) in ceramics, painting, illustration and wood. I have a popular Etsy site called Goldfish Marmalade where I sell my handpainted wood pieces, fabric decals, and prints. Thanks for checking out my work!
www.kimberlyhodges.com www.etsy.com/shop/GoldfishMarmalade
nightgarden joined Society6 on September 16, 2016.