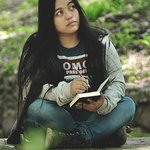 Nikki Fernandez
Hello I'm Nikki Fernandez,
I'm from Cebu, Philippines. I've been blessed to live 12 years in California before returning back to my home country with my parents where my dad decided to retire. I'm currently writing this in 2015 so I've lived here now for about 11 years. It was a big culture shock for me since things are done a lot differently here. Experiencing both 1st world and 3rd world country has been an eye opener and is definitely a big influence in my art.
I've always enjoyed making art since 1st grade, it was always the thing I did when I was bored. I had fun making things from my hands and my love for it continued to college where I took up Fine Arts majoring in Painting from the University of San Carlos – TC. 4 years ago when I graduated I was not confidant with my painting abilities to earn from it and so decided to go into freelance work designing infographs, logos, flyers and brochures.
This 2015, at age 26 and married, I decided to get serious with my art because my freelancing is just not feeding me the spiritual creativity I want. To solidify this dream I've invested in a website and now spend my free time working on my art every day. My hope is with enough effort there will be people who like my art and may purchase a piece for their own so I will be able to work on it full time.
http://www.nikkifernandezart.com/ https://www.facebook.com/nikki.fernandez.art https://www.patreon.com/nikkifernandezart
Read more
Nikki Fernandez's Store
Filter