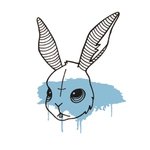 NikkoNikko
Hi All! I'm Nikko, A 20 something year old artist/illustrator/graphic designer who loves everything and anything creative! I dabble in everything from painting, carving, and sculpture to illustration, design and typography and love all things weird and wonderful. My line art illustrations are emerging as one of my stronger points, and this mixed with a lot of watercolour and much mess make up the majority of my work. I'd love to hear what you think so drop me a line and lemme know! http://nicoleholmewood.wix.com/theinkhole Thanks guys, Enjoy! NikkoNikko joined Society6 on September 10, 2013
More
Hi All!
I'm Nikko, A 20 something year old artist/illustrator/graphic designer who loves everything and anything creative! I dabble in everything from painting, carving, and sculpture to illustration, design and typography and love all things weird and wonderful.
My line art illustrations are emerging as one of my stronger points, and this mixed with a lot of watercolour and much mess make up the majority of my work. I'd love to hear what you think so drop me a line and lemme know!
http://nicoleholmewood.wix.com/theinkhole
Thanks guys, Enjoy!
NikkoNikko joined Society6 on September 10, 2013.