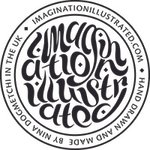 Imagination Illustrated
Nina Dogmetchi graduated from the RCA in 2003 with an MA in Printed Textile Design. In 2013 with the help of Kick Starter Nina quit her Graphic Design job at Adidas, wrote and illustrated her first Children's Book and launched her lifestyle brand, Imagination Illustrated. Where she now creates Art Inspired Stationery, Children's Books and Textile Products. Imagination Illustrated joined Society6 on February 27, 2012
More
Nina Dogmetchi graduated from the RCA in 2003 with an MA in Printed Textile Design.
In 2013 with the help of Kick Starter Nina quit her Graphic Design job at Adidas, wrote and illustrated her first Children's Book and launched her lifestyle brand, Imagination Illustrated. Where she now creates Art Inspired Stationery, Children's Books and Textile Products.
Imagination Illustrated joined Society6 on February 27, 2012.