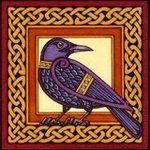 Ninth Wave Designs
The original paintings featured in the Ninth Wave Designs Society6 store were created using acrylic inks on paper, by hand, and without the aid of a computer. Inspired by the illuminated manuscripts of early medieval Ireland, such as the Book of Kells, these works are all original designs and are ©1998 - 2015 by Lisa Laughy of Ninth Wave Designs: All rights reserved. See more artwork at: http://www.ninthwavedesigns.com Ninth Wave Designs joined Society6 on October 25, 2012
More
The original paintings featured in the Ninth Wave Designs Society6 store were created using acrylic inks on paper, by hand, and without the aid of a computer. Inspired by the illuminated manuscripts of early medieval Ireland, such as the Book of Kells, these works are all original designs and are ©1998 - 2015 by Lisa Laughy of Ninth Wave Designs: All rights reserved.
See more artwork at: http://www.ninthwavedesigns.com
Ninth Wave Designs joined Society6 on October 25, 2012.