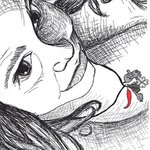 Genevieve_Anna_Tyrrell
Genevieve Anna Tyrrell, also known as "NiteKitty" and "GirlGoneQuiet," is a creative writer and visual artist. Her art aims to capture raw emotion via movement and color. Her favorite styles involve watercolor and mixed media. Tyrrell's art has been published in The Rumpus, Ghost Parachute, Smokelong Quarterly, and Animal: A Beast of a Literary Magazine. She is also the assistant editor for Ghost Parachute. Her website is: http://therealgenevievetyrrell.com/ Genevieve_Anna_Tyrrell joined Society6 on December 7, 2015
More
Genevieve Anna Tyrrell, also known as "NiteKitty" and "GirlGoneQuiet," is a creative writer and visual artist. Her art aims to capture raw emotion via movement and color. Her favorite styles involve watercolor and mixed media.
Tyrrell's art has been published in The Rumpus, Ghost Parachute, Smokelong Quarterly, and Animal: A Beast of a Literary Magazine. She is also the assistant editor for Ghost Parachute. Her website is: http://therealgenevievetyrrell.com/
Genevieve_Anna_Tyrrell joined Society6 on December 7, 2015.