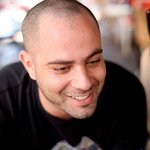 Niv Shimshon
Hello and Welcome, My name is Niv. I'm a professional photographer based in Tel Aviv, Israel. I've been passionate about photography for as long as I can remember my self. I am inspired by the simple everyday things in life and wherever I go - city, nature, travel - I take my camera with me. All photos have been taken by me over the years. You can also find me at: www.nivshon.com Niv Shimshon joined Society6 on January 11, 2012
More
Hello and Welcome,
My name is Niv. I'm a professional photographer based in Tel Aviv, Israel. I've been passionate about photography for as long as I can remember my self. I am inspired by the simple everyday things in life and wherever I go - city, nature, travel - I take my camera with me.
All photos have been taken by me over the years.
You can also find me at: www.nivshon.com
Niv Shimshon joined Society6 on January 11, 2012.