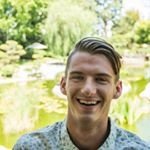 Nick Kvistad
My name is Nick Kvistad and I was born and raised in the gorgeous state of Cali. Photography and Video are professional hobbies that I have an endless amount of passion for, and this is some of my experience over the years. 5 years of graphic design 8 years of photography Proficient in Illustrator, Photoshop, Premiere Pro, After Effects, and InDesgin In three art galleries for showings Placed Honorable Mention 3 years running, Nikon Photography Contest Emerging Professionals for award Multimedia given by Santa Barbara Major Marketing/Film major Nick Kvistad joined Society6 on October 11, 2016
More
My name is Nick Kvistad and I was born and raised in the gorgeous state of Cali. Photography and Video are professional hobbies that I have an endless amount of passion for, and this is some of my experience over the years.
5 years of graphic design 8 years of photography Proficient in Illustrator, Photoshop, Premiere Pro, After Effects, and InDesgin In three art galleries for showings Placed Honorable Mention 3 years running, Nikon Photography Contest Emerging Professionals for award Multimedia given by Santa Barbara Major Marketing/Film major
Nick Kvistad joined Society6 on October 11, 2016.