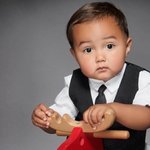 noahtoddler_artist
A toddler who enjoy painting very much. So his mother has an idea to put his art on sell as she can see there are somethings in it, such a happiness while he creating it, emotion and pureness. This will be something for him to look back when he grow up and be more creative and be proud of himself. Please support his artworks if you like them! It's means a lot to him it will make one kid grow up to be confident, proud, creative and it would inspire another kids as well. noahtoddler_artist joined Society6 on September 1, 2016
More
A toddler who enjoy painting very much. So his mother has an idea to put his art on sell as she can see there are somethings in it, such a happiness while he creating it, emotion and pureness. This will be something for him to look back when he grow up and be more creative and be proud of himself.
Please support his artworks if you like them! It's means a lot to him it will make one kid grow up to be confident, proud, creative and it would inspire another kids as well.
noahtoddler_artist joined Society6 on September 1, 2016.