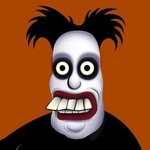 Nobody's Sweetheart
Dyna Moe is an illustrator & comedian most associated with her illustration work for the TV drama "Mad Men," including the viral Mad Men Yourself app artwork and best-selling 2010 book "Mad Men: The Illustrated World," and the 2015 humor book "Hipster Animals: A Field Guide." She recently moved to Seattle, WA. Nobody's Sweetheart joined Society6 on December 29, 2016
More
Dyna Moe is an illustrator & comedian most associated with her illustration work for the TV drama "Mad Men," including the viral Mad Men Yourself app artwork and best-selling 2010 book "Mad Men: The Illustrated World," and the 2015 humor book "Hipster Animals: A Field Guide."
She recently moved to Seattle, WA.
Nobody's Sweetheart joined Society6 on December 29, 2016.
Nobody's Sweetheart's Store
25 results
Filter