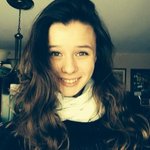 Elle Major
Hi, I am Noelle Majorczak, an 18 year old student at the University of Maryland who likes sculpting and drawing every once in a while. And of course, attempting to raise funds for textbooks. Originally from Piscataway, NJ, and currently residing in College Park, Maryland. For any comments, concerns, or personal requests please leave comments on any piece or email me at noellemajorczak@gmail.com ! Elle Major joined Society6 on July 3, 2013
More
Hi, I am Noelle Majorczak, an 18 year old student at the University of Maryland who likes sculpting and drawing every once in a while. And of course, attempting to raise funds for textbooks. Originally from Piscataway, NJ, and currently residing in College Park, Maryland.
For any comments, concerns, or personal requests please leave comments on any piece or email me at noellemajorczak@gmail.com !
Elle Major joined Society6 on July 3, 2013.