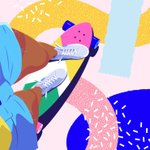 Nomad Unicorn
I'm Ely*, the bold & colourful independent graphic designer and illustrator who loves helping brands to tell their stories through unique designs and illustrations.
You can find me on instagram, facebook, pinterest and pretty much everywhere on social media as @nomadunicorn and see my work at https://www.nomadunicorn.com/. You can also find me rollerskating in the parks, exploring Holland by bike or learning how to grow my own veggies in my small balcony.
If you have a project or just want to say hi, please feel free to message me, I'm happy to hear from you!
#minimalism #patterns #geometricpatterns #vectorillustration #scandinavian #graphicdesign #memphispattern
Read more