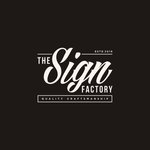 panamashirt
We are a young dynamic team striving for top quality by keeping up to date and continuously investing in new systems with the latest technology in sign production to keep us at the forefront of sign manufacturing and printing. Our primary aim is to exceed the client's expectations. A quotation is given on all projects together with a time guaranteeing our reputation of prompt delivery and installation on time. We believe in environmental responsibility and whenever possible try to reduce waste by recycling all possible materials. Sometimes all we need is to spray the old parts, add some light and voilà! The more we recycle, the cheaper your next sign will be. At the Sign Factory we also focus on 100% bespoke design services to match your specifications Our team is composed entirely of trained professionals. Their flexibility makes them comfortable on the shop floor as they are in the office. The Sign Factory provides you with great resources for recommendations, problem solving and any technical assistance required. We are professionals. Thank you for visiting our website and showing your interest in our products and services. The Sign Factory launched this website in early 2017, and it will always be a "work in progress" just like our ever evolving team. We will continue to add useful content to our website to make it a destination point for our commercial and domestic clients. We would like to thank our current customers for the pleasure of doing business with them and would like to maintain this relationship. We also would like to tell our prospective customers, to give The Sign Factory a try. We believe in providing the full service, not just parts of it! The Sign Factory, inspired by a love of signage and printing. panamashirt joined Society6 on August 24, 2014
More
We are a young dynamic team striving for top quality by keeping up to date and continuously investing in new systems with the latest technology in sign production to keep us at the forefront of sign manufacturing and printing.
Our primary aim is to exceed the client's expectations. A quotation is given on all projects together with a time guaranteeing our reputation of prompt delivery and installation on time.
We believe in environmental responsibility and whenever possible try to reduce waste by recycling all possible materials. Sometimes all we need is to spray the old parts, add some light and voilà!
The more we recycle, the cheaper your next sign will be. At the Sign Factory we also focus on 100% bespoke design services to match your specifications
Our team is composed entirely of trained professionals. Their flexibility makes them comfortable on the shop floor as they are in the office. The Sign Factory provides you with great resources for recommendations, problem solving and any technical assistance required. We are professionals.
Thank you for visiting our website and showing your interest in our products and services. The Sign Factory launched this website in early 2017, and it will always be a "work in progress" just like our ever evolving team. We will continue to add useful content to our website to make it a destination point for our commercial and domestic clients.
We would like to thank our current customers for the pleasure of doing business with them and would like to maintain this relationship. We also would like to tell our prospective customers, to give The Sign Factory a try. We believe in providing the full service, not just parts of it!
The Sign Factory, inspired by a love of signage and printing.
panamashirt joined Society6 on August 24, 2014.