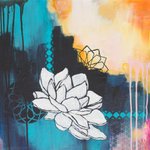 NorahBlueArt
Norah Soughayer Christmann, NorahBlueArt, is a mixed media abstract artist living and working in the San Francisco Bay Area where so much of what she paints is informed by the coast, forests, and mountains of California.
Norah creates deeply complex, magical dreamscapes, making art intuitively, using acrylic paint, inks, pastels, pencils, oil sticks, drawing media and collage papers.
Through beautiful rich layers of gorgeous color, energetic line, rhythmic pattern, and allusions to poetry, music, spiritual traditions, place and natural elements, Norah's abstract art depicts intimate spiritual and emotional landscapes that explore the deep connections between people, nature, and the infinite. Norah's work encourages empathy, dignity, and honoring the best in all of us.
Read more