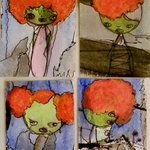 Norahz Art
Hi, My name's Sharon, I'm a visual Artist and Jewelry designer working out of the US. I work with traditional, handmade methods, such as drawing, painting, collage, mixed media, and fiber art. I've had my work exhibited in several galleries and museum stores across the US. Recent Group Show: May 2012 Art Lab, Staten Island, NY Art Cards Editions Originals Work Published: May 13, 2012 Staten Island Sunday Advance, Arts & Leisure Section C (Cover Page) If you have any questions, or would like a commission, please contact me jnorahz@yahoo.com Thanks, Sharon http://stores.ebay.com/Norahz-Custom-Jewelry-Art http://twitter.com/norahzboutique Norahz Art joined Society6 on August 22, 2013
More
Hi, My name's Sharon, I'm a visual Artist and Jewelry designer working out of the US. I work with traditional, handmade methods, such as drawing, painting, collage, mixed media, and fiber art.
I've had my work exhibited in several galleries and museum stores across the US.
Recent Group Show: May 2012 Art Lab, Staten Island, NY Art Cards Editions Originals Work Published: May 13, 2012 Staten Island Sunday Advance, Arts & Leisure Section C (Cover Page)
If you have any questions, or would like a commission, please contact me jnorahz@yahoo.com
Thanks, Sharon
http://stores.ebay.com/Norahz-Custom-Jewelry-Art http://twitter.com/norahzboutique
Norahz Art joined Society6 on August 22, 2013.
Norahz Art's Store
24 results
Filter