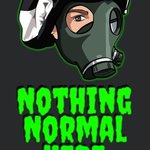 NothingNormalHere
Oddball. Offbeat. Free thinker. My goal at Nothing Normal Here is to bring a new perspective to your lives, as well as introduce and interview new artists I come across in my never-ending hunt for weird, obscure, new things. I'm tired of the everyday, and want something different from the normal pre-packaged rambling of bias networks and crappy reality television. Let's break away from normality together, and embrace the abstract, obscure, strange, and new. NothingNormalHere.com NothingNormalHere joined Society6 on August 29, 2016
More
Oddball. Offbeat. Free thinker.
My goal at Nothing Normal Here is to bring a new perspective to your lives, as well as introduce and interview new artists I come across in my never-ending hunt for weird, obscure, new things. I'm tired of the everyday, and want something different from the normal pre-packaged rambling of bias networks and crappy reality television. Let's break away from normality together, and embrace the abstract, obscure, strange, and new.
NothingNormalHere.com
NothingNormalHere joined Society6 on August 29, 2016.