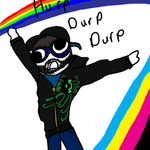 chipperdoodles
Webcomics are awesome right? Well they are also terrible. Depends on which comics and I most certainly hope Noties is not one of latter of those two. Chipperdoodles am a nervous little cartoonist out of the wilds of california who runs a webcomic known as Noties with Martin. He suggest you check it out if you have some time. chipperdoodles joined Society6 on July 3, 2012
More
Webcomics are awesome right? Well they are also terrible. Depends on which comics and I most certainly hope Noties is not one of latter of those two.
Chipperdoodles am a nervous little cartoonist out of the wilds of california who runs a webcomic known as Noties with Martin. He suggest you check it out if you have some time.
chipperdoodles joined Society6 on July 3, 2012.