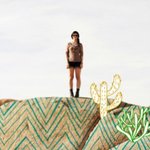 Keren Richter
Keren Richter is a visual artist specializing in illustration and art direction. She grew up in the San Francisco Bay Area and graduated from Columbia University with a degree in Art History.
Her psychedelic landscapes and stylish portraits have found their way into a variety of projects including editorial illustration, animation, set design, and album art for the likes of Urban Outfitters, MTV, Boost Mobile, The Fader, Microsoft, and in the form of signature products in collaboration with Nylon, Vans, Sephora, Casemate, and t-shirts and art direction for Blood is the New Black.
Her drawings and paintings have been exhibited in solo and group shows at New Image Art, Space15Twenty, Movember, The New Yorker Gallery, Camp Fig, Jonathan Levine Gallery.
Her work appears in Die Gestalten Verlag's Illusive 2, Tres Logos, The Great Escape, Curvy3, Curvy4, 55DSL's 2Steps Back, Murphy Design's Heaven and Hell, and Wooster Collective's Hollywood and profiles in Yen, Jane, Computer Arts, and Coolhunting.
She was named one of the "Young Guns" (YGA7) by The Art Directors Club in 2009. In 2011 she released her first curatorial project; an art magazine entitled Space is the Place.
http://www.notkeren.com http://secretweapon-nyc.com
Read more
Keren Richter's Store
Filter