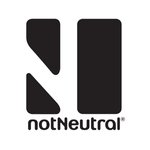 notNeutral
At notNeutral, we design and decorate objects that are a part of the rituals of our everyday lives. We love to tell stories, and instill products and graphics with the ideas, culture, and history their designs are based on. Founded by the award-winning multidisciplinary design firm Rios Clementi Hale Studios, notNeutral creates bold, idea-based, accessible designs for the everyday modern lifestyle. Blurring the boundaries between the figural and abstract, and the decorative and functional, our designs are colorful, playful, and imbued with a clever take on the ordinary that is unquestionably not neutral. notNeutral joined Society6 on September 2, 2014
More
At notNeutral, we design and decorate objects that are a part of the rituals of our everyday lives. We love to tell stories, and instill products and graphics with the ideas, culture, and history their designs are based on.
Founded by the award-winning multidisciplinary design firm Rios Clementi Hale Studios, notNeutral creates bold, idea-based, accessible designs for the everyday modern lifestyle. Blurring the boundaries between the figural and abstract, and the decorative and functional, our designs are colorful, playful, and imbued with a clever take on the ordinary that is unquestionably not neutral.
notNeutral joined Society6 on September 2, 2014.