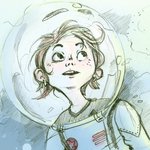 net timoney
Net is a freelance illustrator and designer. Net's favorite subject matter is anything so cute it's creepy. They were raised in the southeast USA and grew up loving the ocean, hanging from trees in the woods and booking it home to watch their favorite animated heroes after school. They specialize in sequential art and concept art for animation and video games. Behance: https://www.behance.net/ntimoney Portfolio: ~Coming Soon~ net timoney joined Society6 on April 1, 2014
More
Net is a freelance illustrator and designer.
Net's favorite subject matter is anything so cute it's creepy. They were raised in the southeast USA and grew up loving the ocean, hanging from trees in the woods and booking it home to watch their favorite animated heroes after school.
They specialize in sequential art and concept art for animation and video games.
Behance: https://www.behance.net/ntimoney Portfolio: ~Coming Soon~
net timoney joined Society6 on April 1, 2014.