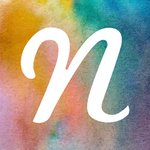 Nuviart
Bienvenidos! Welcome to Imagino! Original paintings of watercolor imaginary characters made with love by me! Creating watercolor "Imagino" characters, came from a brief thought I had of making something fully spontaneous, using water to collaborate in the process. I started by painting shapes with water onto the paper, randomly adding colors to the water, letting it dry. The color paint will change, move, mix and blend while drying, which was really amusing to me. Once it was dry, an image appeared, very different to what I started with. I would look at the shape, then draw with ink pen what I saw, as I saw it. I wanted the process to be a free flow. I made one character and found myself with more, as I enjoyed so much. They represent to me, new friends, almost like the type you have when you are a kid, imaginary ones. They come from an image I see, that then gets interpreted in my mind, and becomes a colorful character, which I play with. They'll love to become your friends too! http://www.nuviart.com/ https://instagram.com/nuviart_/ https://www.facebook.com/pages/Nuviart/224545394290051 https://www.etsy.com/shop/Imagino?ref=hdr_shop_menu All artwork is copyright © Nuvia Melissa Ramirez Nuviart joined Society6 on February 2, 2015
More
Bienvenidos! Welcome to Imagino! Original paintings of watercolor imaginary characters made with love by me!
Creating watercolor "Imagino" characters, came from a brief thought I had of making something fully spontaneous, using water to collaborate in the process. I started by painting shapes with water onto the paper, randomly adding colors to the water, letting it dry. The color paint will change, move, mix and blend while drying, which was really amusing to me. Once it was dry, an image appeared, very different to what I started with. I would look at the shape, then draw with ink pen what I saw, as I saw it. I wanted the process to be a free flow. I made one character and found myself with more, as I enjoyed so much. They represent to me, new friends, almost like the type you have when you are a kid, imaginary ones. They come from an image I see, that then gets interpreted in my mind, and becomes a colorful character, which I play with. They'll love to become your friends too!
http://www.nuviart.com/ https://instagram.com/nuviart_/ https://www.facebook.com/pages/Nuviart/224545394290051 https://www.etsy.com/shop/Imagino?ref=hdr_shop_menu
All artwork is copyright © Nuvia Melissa Ramirez
Nuviart joined Society6 on February 2, 2015.